This covers the 5N0035729A and various other versions as there all the same, I have D for instance.

I decided i wanted to tidy up my setup in the car and wanted to integrate the MDI and bluetooth, these have been about for some time but have become quite cheap from German eBay.

So it looks like just a MDI unit but they've put BT in it as well, very handy as you can just tuck it away behind the stereo and not have to run wires to under the seat (only wire to run is mic to the courtesy light) , it now has the 54 pin BT socket not the little black one from the MDI.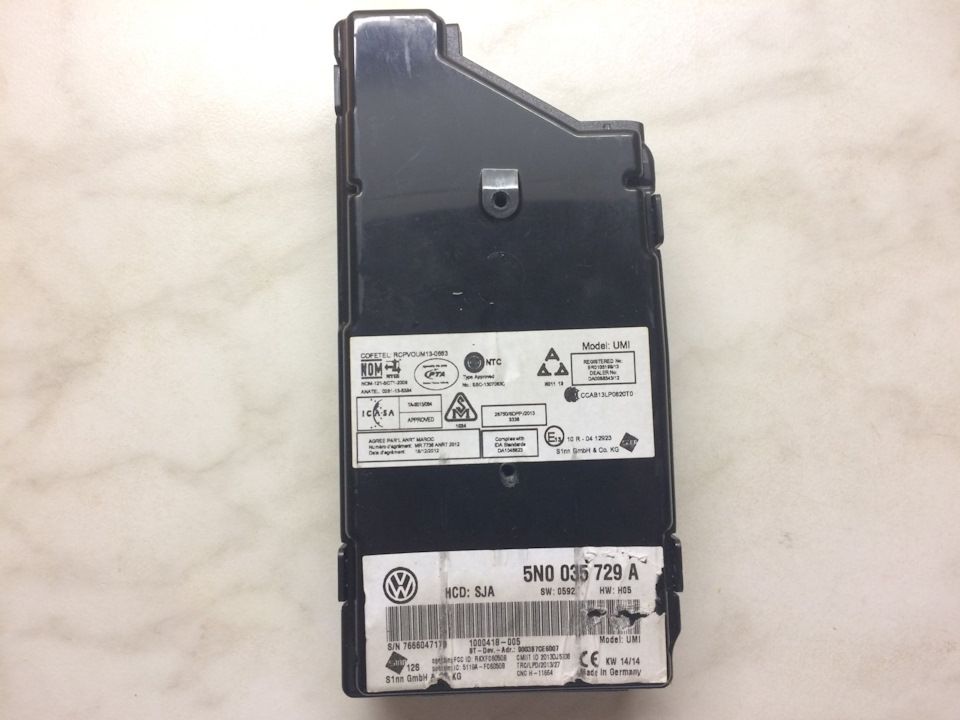 Because i'm a cheapskate and had a loom lying round for standard BT unit i used that to connect it up, this is all covered all over the net already but i've had 3 days between nights of playing around trying to get it to work and wanted to give some info to people searching on google.

1st this was a good little read

http://forums.vwvort...dule-5n0035729a

So my 1st problem was i got a cheap 15 quid loom from China, absolutely nothing wrong with loom except they had connected the mute cable between the BT and Radio, this is NOT normally used anymore as all new BT units from say 2006 ish use the CAN network to mute the sound for incoming call.

This manifested itself in the fact i couldn't BT stream to the radio, it would pause all the time and the phone symbol was displayed on the screen, took me two days to work out what was going on (i was between nights and not in a good mood lol) so check your loom for pin 16 on the 54 way BT plug or pin 10 on the 12 way green connector in the quadlock, remove one end to make this right, or cut it.

So i finally got this sorted and was connected and BT streaming A2DP in no time, plus all the phone side worked etc so was very happy, my cheap loom also didn't have voice control SDS in for the RNS 510 so i had to sort out some extra cabling to pass the mic through the 510 first, this came from my existing loom i cut from the car.

2nd problem was the MDI side of the unit wasn't playing sound literally spitting feathers by this point, it had taken some time trawling Elsawin to find the wiring diagram for this and the one i found was from a Jetta, but it was missing some wires, it may well have worked with newer Radios which may only use one input, but the 510 uses 2 specific inputs for phone and media, i thought possibly a firmware upgrade wound do this but no its just wiring.

I trawled Elsawin again and found more cars that had the 5N0035729 fitted and found some extra wiring that needed adding for the MDI part to pass the media/MDI sound to the 510, remember its 2 units in one there almost treated totally separate buy the stereo, phone/A2DP using the phone input green connector, MDI/ipod,USB,3.5 using the media in input on the blue connector.

luckily as i'd removed my old loom for phone i had extra wires and connectors to do this.

So if your having issues with it read above and look at the extra wiring pics below

Here are the normal cables for getting sound for the phone side of things either calls or BT streaming




NOTE:- T54 pin connector is the BT MDI combo the other end T12 is the 12 way green connector on quadlock

Now we have the wiring to carry the sound from the MDI output to the media in plug


NOTE:- T54 connector is the BT MDI combo the other end T12 is the 12 way blue connector on quadlock you may need to remove the 3.5 aux in to connect to pins 1/2/7 on blue connector.

Finally if you already have a 3.5mm jack aux connector in the arm rest or other place this can also be inputted into the unit, remove the OEM aux 3.5 jack wires from blue quadlock connector and rehouse them in T54 the bluetooth 54 way plug.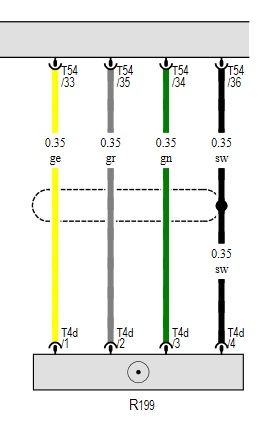 Don't forget to add phone 77 to the install list of the can gateway 19 with VCDS if removing old BT and MDI don't forget to remove MDI media player 2E from gateway list.

..Edit...I'm not sure if this is like this on all cars but my gateway threw up a not codded properly error until 2E was ticked and installed even though VCDS can't/won't connect to it, it knew it was there and wanted coding?

To sum up don't be a tight arse and just buy this loom from carsystems.pl i can't vouch for it but obviously they say its for this unit A D etc etc.... and have SDS which is voice control of the RNS 510

http://www.carsystem...5729,id822.html
Edited by SI-R32, 22 May 2017 - 01:34 AM.