Alright Guy's
I think the time has come to make my own build thread as ive been a member on here for a good while now.
I have owned my DBP golf mk4 r32 since January 2012. The car came with all additional extras such as;
Full heated leather koing interior
Sat Nav
Cruise Control
Climate Control
When i bought the car it was completely standard apart from the rear windows being tinted. The picture below shows the car when it was first dropped off!
I had to wait 10 days to transfer my insurance over from my mk4 1.6se as you may guess this was the longest few days i have ever experienced. I used the time to carry out a small service on the car included oil and filter change, air filter, pollen filter and spark plugs just for piece of mind!
As soon as the car was on the road the changes came thick and fast starting with minor alterations. I firstly swapped my wheels over to my ssw deep dish alloys while my asterois where getting powder coated with a
bit of a twist. This is a quick picture of the ssw's fitted.
While my wheels were being done i transferred my private plate which just gave the car my own little touch
http://www.r32oc.com/public/style_emoticons/#EMO_DIR#/smile.png
i decided that the original sat nav system looked slightly dated so i decided to update this by purchasing a sony xav-63 DVD unit along with sony uprated door speakers. I also took the effort to treat the car to some R logo brake caliper decal and r line centre caps that went really well with the new wheel setyup. My alloys where powder coated gloss black with a metallic blue flake and the outcome was this! which i was very pleased.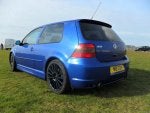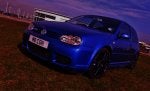 A little play with picture editing software, i know its not the best.
The next thing that was bought was a cupra r splitter which i carbon wrapped along with my front grill and the plastic trim in the engine bay, This just cleaned up under the bonnet as the plastic had faded so i thought i would just give it a go. While i was tidying up the engine bay opted for spraying the batter cover and pipe connecting to the air box to match with the manifold and coilpack, to finish it off i bought a new set of badges just to freshen things up
http://www.r32oc.com/public/style_emoticons/#EMO_DIR#/smile.png
At this point i was happy with the way the car was looking as i was new into the car game so i thought it was time to change the car in relation to performance! I saved up for a few months and went on a crazy spending spree which resulted in a neuspeed induction kit, millitek non res cat back, decat system, forge short shifter, schrick cams and h&r wheel spacers being purchased which certainly made me a happy boy
http://www.r32oc.com/public/style_emoticons/#EMO_DIR#/smile.png
The car sounded great and drove so much better it was untrue so after a lot of pointless and window down driving a decided to start with the never ending world of detailing which resulted in this
http://www.r32oc.com/public/style_emoticons/#EMO_DIR#/smile.png
To carry out the detailing i have to thank Christopher1985 as he kindly lent me his polishing machine and made me aware of the fact that what i thought was mint paintwork was full of swirl marks! I used the 3m cutting compounds (green,blue and yellow) and finished the car off with a nice couple of coats of dodo juice purple haze which brought the car up a treat. i would highly recommend this stuff along with alot of patience, time and elbow grease!
The ride height of the car was the next issue to be addressed and this was achieved by using the h&r 50mm lowering springs which where purchased from samtech performance which is where i source all my parts, Kris is a real great guy and can get you absolutely anything. Here's a link to his site if anyone wants it;
http://samtechperfor...esta/index.php?
The springs where fitted at 10pm the night before we were due to go to santa pod so they were fitted under torch light but we were determined to get them done in time. The results that were found tthe next morning were more than what i could of hoped for, The car sat perfect
http://www.r32oc.com/public/style_emoticons/#EMO_DIR#/smile.png
I was so happy with the quality of the job that was carried out and i would definitely use the body shop again. My mate Kris invited me to a rolling road day that he was attending in his seat cupra R, so i thought it would be rude not to attend
http://www.r32oc.com/public/style_emoticons/#EMO_DIR#/smile.png
and what a day it was! There was a variety of different cars there but it was confirmed the R32 sounded the best and with a printout at 282bhp i was more than impressed, unfortunately the cupra R showed me up with 381bhp all to the front wheels :0. Here is a picture of the cars waiting to have their moment!
Over the winter not much progress went on with the car but this didn't mean i stopped spending on it
http://www.r32oc.com/public/style_emoticons/#EMO_DIR#/smile.png
i thought it was time to upgrade the handling slightly so this in turn resulted in me over 3 months buying;
An upper Strut Brace
Uni brace for the rear
Power-flex dog bone mounts
And the difference was really surreal it sticks to the road like a go kart so to say i was impressed was an understatement. While i did this i also took the opportunity to tint my front headlights and give the engine bay a well deserved clean!
Last month with the weather picking up i decided it was time to get the detailing gear back out and spent an entire weekend polishing and waxing and the results where well worth the effort that was put in! I couldn't get a picture of the car due to the amount of sun it kept reflecting off. I will let the pictures do the talking!
So this is how the car currently sits, there are several big changes in store for the very near future. I will try to get some interior pictures over the weekend and will continue to update this! Sorry for the poor quality pictures, its the only camera i had at the time unfortunately.
Cheers Fellas!
Maco