Ok, as a few of you may already know, I decided to enter the world of forced induction.
With the help of Seb, also known as 'Golfguy' on this forum, he noticed my thread from back 4-5 months ago with me asking about the forum in search of what to do, and where to go in terms of getting the most out of the 24v VR6 engine with going FI, wether that be turbo charged,or super charged.
I knew absolutely nothing in the field of forced induction, and didn't really actually understand the concept of how a turbo system worked apart from the obvious fact that in generally makes your car faster, and makes some really nice noises
oh....and with that obvious observation I also knew it comes with quite a heavy price tag.
Seb had got in contact with me, and the first time we spoke on the phone he spent nearly 4 hours on the phone to me going through my options and explained pretty much everything about turbos and superchargers how they worked.... pros and cons of each etc etc!
I was indeed massively fascinated and it came to the point where an opportunity came about that I really could not refuse.
I decided that going turbo was going to happen....I have nothing against superchargers, I just felt that if i was going to do something like this, it would have to be turbo!
A few of you may remember Golfguy putting up a feeler thread a few months back to give those like me on here wanting to go turbo FI the opportunity to get the HPA DTM 7670 Borgwarner turbo kit at a slightly reduced price with shipping and duties.
Needless to say I pretty much yanked his arm off for a place on his shipment as it turned out that I would save quite a few pennies thanks to him (thanks again mate!)
My MK4 R32 Kit included :
360HP / 360TQ @ .5bar
EFR 7670 Single Scroll Turbo (optional extra ceramic coating)
HPA Cast Exhaust Manifold (optional extra ceramic coating)
HPA 70mm Downpipe (optional extra ceramic coating )
Stainless Steel Heat Shields
500cc Injectors
Custom Silicon Hoses
3 bar FPR
8:1 Compression Reduction Kit
AEM Boost Controller
Proprietary Software*
Oil and Water Braided Lines
Nuts, Bolts, and Gaskets
*ECU must be shipped to HPA for programming
I also decided to purchase the HPA Haldex TouchMotion AWD controller as it seemed like a very good piece of kit and seeming I missed out on the group buy that took place on here a few months back I thought is seize the opportunity once again.
2 months after handing over quite a large amount of money, it turned up!
Opening the boxes brought many memories back to me of when I was a kid opening presents on Christmas morning.
Some pictures.......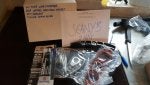 (For those of you wondering why I have a piece of paper with my username tagged on it, it's because I was going to sell this kit on as at the time of receiving it, me and my partner had some very fortunate news with that we were going to have our first baby. Our 11 week scan was a few weeks ago now and it wasnt so fortunate and revealed some very bad news. She had lost the baby within the first few weeks but the body didn't know.)
I put a feeler thread up to sell because I thought we were going to need the money.
Before our 11 week scan, we both made the decision that i could see out my build, and the feeler thread was no more (apologies to those that were intereated, wasting anyone's time was not my intentions, it were just a very confusing time and wasn't sure on what to do)
With that all said and done..... on with the build!
Now with the kit sat in my laundry room I had not yet made any plans to have it fitted.
I was definitely in 2 minds as to wether i should attempt to do this myself. I am a very anal guy and I would not bare the fact that my pride and joy would be in someone else's hands. I know for a fact if i put 110% into something I'd do a much better job then any expert out there as my OCD won't allow for anything less than satisfactory and I hope my build thread to come shows this.
With this said, I have never done anything quite like this..... my car had been evolved in a minor accident previously which unfortunately left her catagorised an insurance write off D, but fortunately left myself and no one else completely uninjured.
I took her back from the Insurance company and decided to fix her up. That turned out pretty well for someone that has only ever done smaller mechanical jobs an amateur diy at home "mechanic" can do, and with that I was quite proud of myself!
BUT!!!!!! even still.... I have never taken an engine out to be completely stripped down and rebuilt.
This was something all very new to me so I spent many hours browsing the Web on my phone researching all the jobs I will need to tackle in rebuilding the engine. (The missus was getting very jealous with how much time I spent on the phone, but of course I continuously reassured her it was not another girl I was messaging on the phone lol!)
I came to the decision that instead of spending 2k+ on getting this done, and in a less than satisfactory way I decided to spend that money on the tools and equipment needed to do it myself.
I had the time, space and ability (or so I felt ) due to the amount of research and help I had available to me from users on here and the genral world wide web (thanks to those that have answered all my questions and concerns in the last few weeks, your contributions have lead me to a point where I'm almost complete)
Soooo much more to come! Watch this space