OK, so I bought a blue MK5 back in February and quite frankly, never looked back! After driving it, I knew then I had to have one and got rid on my A4. It was the only one I want - the blue one! I searched for quite a while and originally went back to the first one I saw (price drop enticed me back). It had the majority of the things I wanted - heated seats and full leather. It was missing things like a headunit with sat nav, cruise control and a MFSW.
Here's a lists of things I've done. I've included some pictures too.
- ARB front replaced
- New tyres all round
- Android head unit installed with DAB, This is my second one as I decided against one with no buttons to go for a more stock look.
- converted a non MFSW into a MFSW
- retrofitted and coded cruise control.
- rear camera (mounted in the boot)
- underseat speaker (just to add a little bass which it was sadly lacking - not boy racer)
- Powerflex dog bone.
- new mats
- boot gas struts
- engine clean
- a full clay bar and compound on the bonnet. I still need to do the rest.
- a service - change of filters and oil
- led interior upgrade
- led sidelight upgrade
- touch up on stone chips
- subframe fix - bolts
- tidied up all the rubber with a silicone
I'm sure there's more but I will add to the list.
Anyway, enough of me rambling, here's some pictures.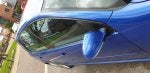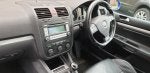 This is my current head unit. 32GB 4GB ram and pretty much does everything. Google maps, voice etc.
This is my non-MFSW and a couple of pictures of the transformation.
I had to cut away the foam on the non-MFSW. A slow painful job. I did buy a passat sterering wheel and take the controls off that. It worked out cheper!
This was the original Android screen I chose. With no buttons, it wasn't the best choice, it didn't look stock and the colour (glossy black) didn't quite match my interior.