Discussion Starter
·
#1
·
Ok guys, so after selling the R32 I was on the hunt for a good Mk2 to use as a weekend toy and something fun to blast around in over the summer. I initially looked at the show car which was for sale on here, but in my eyes wasn't work the money he was asking and still needed a few jobs doing. Viewed another ABF converted one, which was great...but then I went to see a 1.8t conversion just outside Hull. I was expecting something half quick but when I went out in it, I knew I had to have it! This thing was insane quick - 240bhp in a Mk2 is on another level - something Jamesbaby and Fat Head will back up ;-) The spec:
1991 Golf GTi 16v.
LO41 Black.
111k miles.
11 months MOT.
Fitted with 20v Turbo AUM k03s Engine (approx. 45k miles).
QPENG loom & MBE 992 ecu (approx. 240bhp).
Seat Ibiza Cupra 02a gearbox with Golf mk4 shifter (cable change with Seat hydraulic conversion kit)
Mercedes Sprinter Intercooler & custom pipe work.
Golf G60 front discs and calipers.
Mk4 Golf GTi rear discs and calipers.
eBay coilovers.
Uprated anti-roll bars.
BBS RMs 8x15 with Nankang NS2 195/40/15s with loads of tread
Standard rainbow interior in great condition.
Large battery in boot.
Immobiliser.
Badge less single lamp grill.
Recent paint on rear quarters and rear.
Working MFA and all electrics work!
Solid underneath and good paintwork.
The paint work is not bad - the bonnet is bitty, but other than that it polishes up great. Sellers photo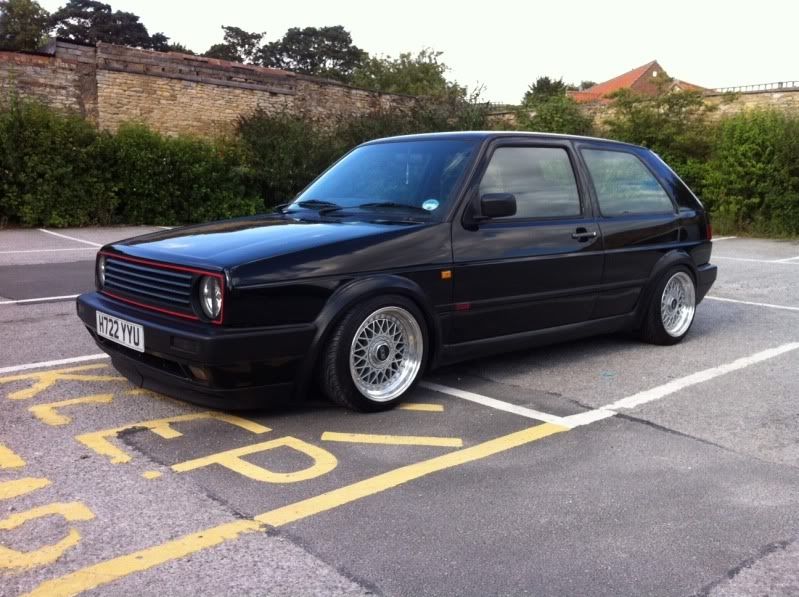 On the way home I stopped and then couldn't get it to start again...turned out it had some wiring done to the starter and alternator the previous week and one of the clips had come off. Bump started it and took it back. Picked it up the night after, went to my mums and it threw a bolt out of the aux belt tensioner. Managed to get a spare and repaired it the Saturday morning. Ran great...went to Frankies little mini meet on the Saturday afternoon, all going well until I cracked the sump on a railway crossing on the way home.