This is a guide to fitting a MK6 multi-function steering wheel into either a MK5 or a MK6 or just how to remove the steering wheel, or to upgrade to a normal MK5 MFSW if you don't have one as its all virtually the same.
PLEASE FOLLOW THIS AT YOUR OWN RISK AS IT INVOLVES THE AIR BAG
IF PUTTING A MK6 MFSW ON A MK5 AND USING THE CH MODULE ONLY 7 BUTTONS WILL WORK NOT ALL 12
I STILL REALLY LIKE THE LOOK ITS NOT ALL ABOUT THE BUTTONS
If you have cruise control the stalk may need to be changed in the mk5 to a mk6 stalk but if the part number ends in G your ok, if it ends in F or A and it needs changing.
Over the years VW have had many different modules for steering wheels, so to keep things simple the CH module will work with the mk5 wheel and the mk6 wheel, there about £40 from eBay China 2015/16
First we need to disconnect the battery negative lead from here in the boot (R32) or in the engine bay for most other VW's
DO NOT CLOSE the hatch as you will need to reconnect the negative later and the boot needs power to open
Remove this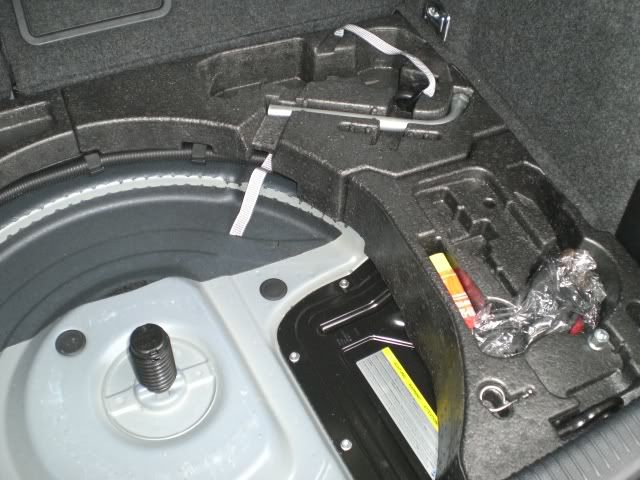 Undo this and place out the way so it can't touch the car body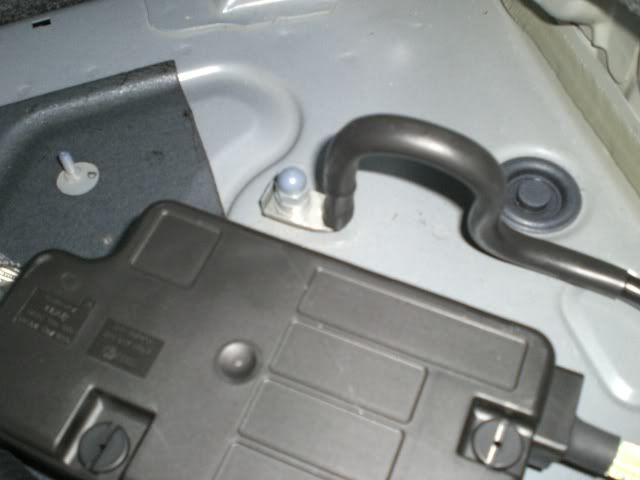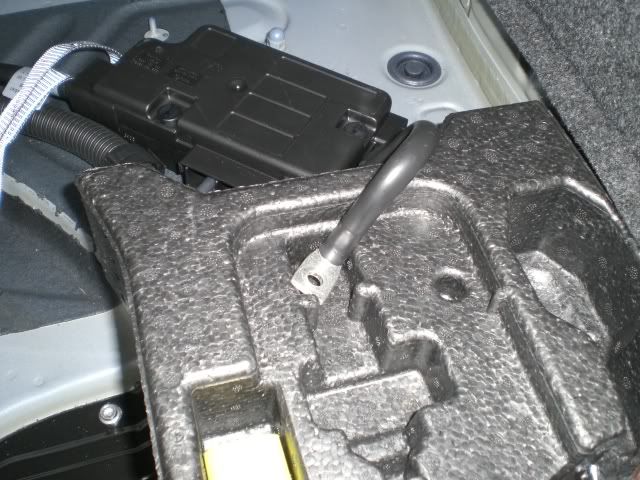 PLEASE LEAVE THE CAR TO STAND FOR AT LEAST 5 MINS TO DISCHAGE ANY STORED ELECTRICITY
these are the safety precautions that VW state you should follow
WARNING
t Pyrotechnic components always contain a propellant that generates a gas during combustion. On some versions, a separate
compressed gas reservoir is available to generate the gas.
t This compressed gas is stored under high pressure in a compressed gas tank.
t Ignition of the pyrotechnic components is by means of an electric/mechanical igniter.
t Testing, removing, installing and repair work may only be performed by qualified personnel.
t For airbag units, there are no exchange intervals.
t Under no circumstances should checks be carried out with a test lamp, voltmeter or ohmmeter.
t Pyrotechnic components may only be checked in installed state and with vehicle diagnosis, testing and information systems approved by the manufacturer.
t When working on pyrotechnic components and airbag control unit -J234-, the battery earth strap must be disconnected with the ignition switched on. Then cover negative terminal.
t A waiting time of 10 seconds is necessary after disconnecting the battery.
t The battery must be connected with the ignition SWITCHED ON. When doing this, there should be no-one inside the vehicle. Exception: Vehicles with battery inside passenger compartment. In this case do not stay anywhere near the effective range of the airbags and seat belts.
t Wash hands after coming into contact with triggered pyrotechnic components of restraint system.
t Pyrotechnic components must not be opened or repaired; always use new parts (risk of injury).
t Pyrotechnic components that have been dropped onto a hard surface or show signs of damage must not be installed in a vehicle.
t Before handling pyrotechnic components of the restraint system, for example before separating an electrical connection, the mechanic must electrostatically discharge himself/herself. Electrostatic discharge is achieved by touching earthed metallic parts, such as the door striker plate.
t Pyrotechnic components must be installed immediately after they have been removed from their packaging.
t If work is interrupted, the pyrotechnic component must be stored back in its packaging.
t Leaving the pyrotechnic component unattended is prohibited.
t Pyrotechnic components must not come into contact with grease, cleaning solution or similar.
t Pyrotechnic components must not be subjected to temperatures above 100 °C even for short periods.
Now to remove the air bag, undo the reach and rake lever and pull the wheel forward and up on its adjustment then lock the lever back in position.
From its normal horizontal position turn the wheel 90 deg to show this little tab at the back of the wheel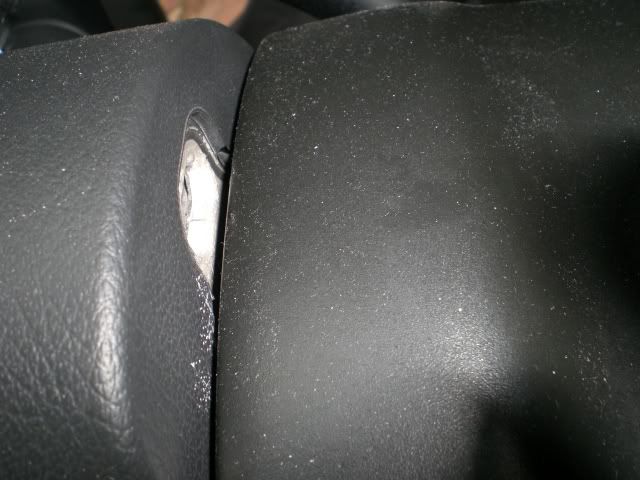 Insert an average size say 8mm flat blade screwdriver into here and twist it 90 deg this will release a sprung catch and hopefully will allow one side of the air bag to pop out or to be pulled gently out.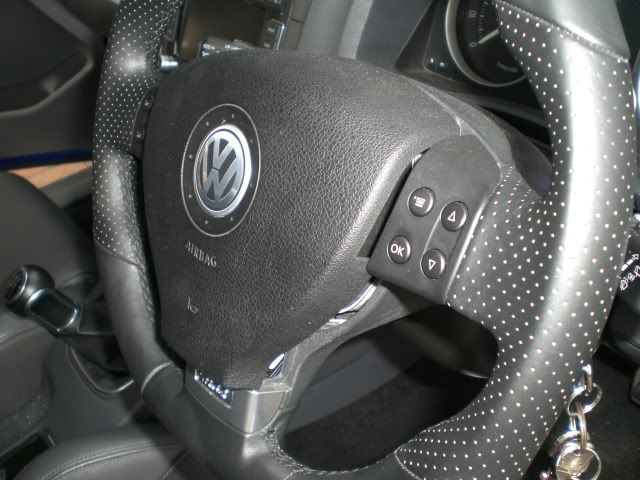 now turn the wheel through 180 deg so you can get to the other tab on the other side, put a screwdriver in this and so the same as above once this comes off you will need someone to help you or be quite good at working with one hand as you must now remove this yellow plug by pulling the sprung latch at the top of it toward you whist pulling on the plug and also release the latch and remove the black plug as well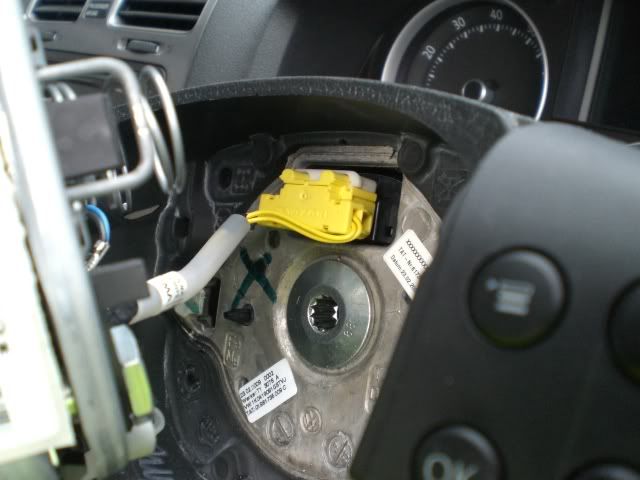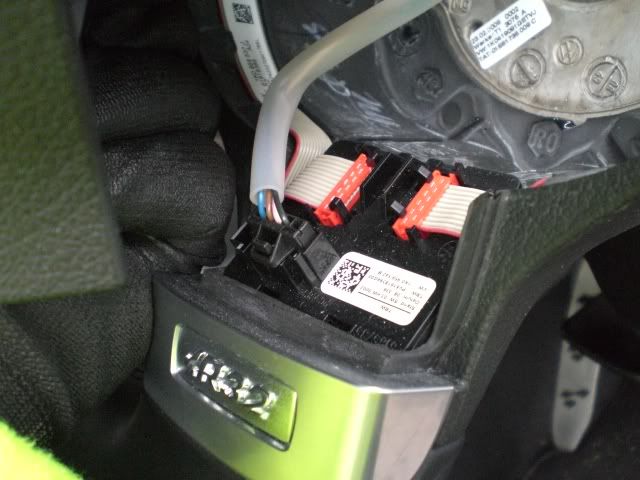 !!!!!!!! NOW PLACE THE AIRBAG SOMEWHERE SAFE WITH THE AIRBAG (VW BADGE) FACING UP, TRY NOT TO PUT IT ON CARPET ETC AS THIS CAN CONDUCT STATIC AND COULD PREMATURELY SET OFF THE AIRBAG !!!!!!!!!
If you have a really early MK5 the slip ring might not be the correct one to do this mod, I'm sorry to say i have no info on this other than you will need to upgrade your slip ring behind the steering wheel to 1K0 959 653 C this is still totally current up to MK6 golf in 2011.
Also if you have an early MK5 these had a dual deployment airbag system on them and two connectors on the back of the air bag, I BELIEVE THIS IS ONLY FOR AMERICAN CARS AS LOOKING THROUGH WIRING DIAGRAMS IT DOESN'T APPEAR ON EUROPE SPEC'D CARS we will be using a new MK6 steering wheel one with one connector on it, as both units use the 1K0 959 653 C slip ring it should work ok, I've researched this quite a bit on ETKA and ELSAWIN and it does not appear that after 2005 you have dual deployment but you will only know for sure by popping off the bag and looking for either 1 or 2 connectors.
You should now see a nut with 12 splines on it, this can be got out with a 6 splined torx bit or a proper 12 splined tool or as a last resort as many of you won't have large torx or 12 splined bits, you can use an allen key in there i can't remember what size but believe it was imperial rather than metric.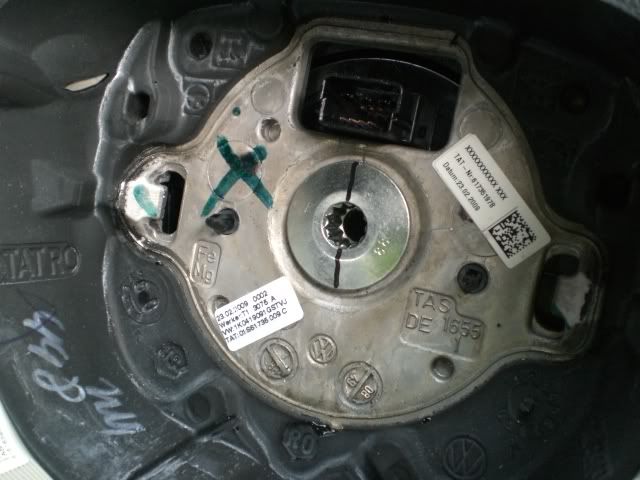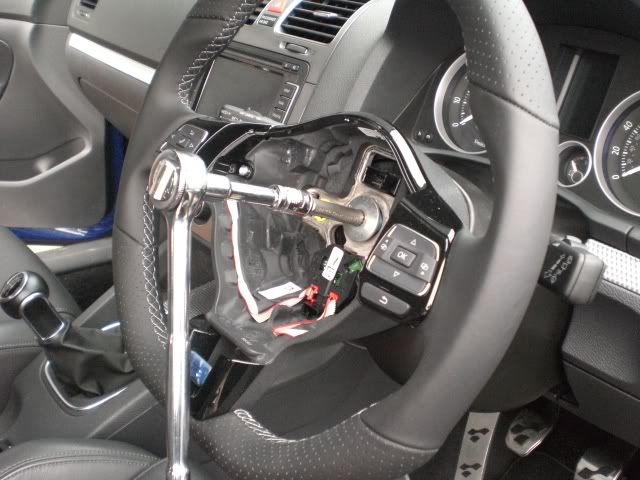 So remove the nut from the wheel and pull the wheel off the splines
Pull the top half of the steering wheel cover off now we can see the 3 screws that hold the bottom half of the steering wheel cover on remove these screws and it just falls off, then this gives us access to the stalks for indicators and wipers and the all important steering wheel control module that you need to change.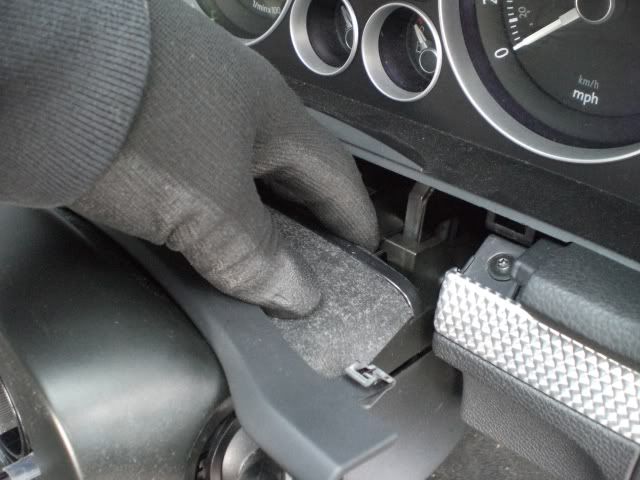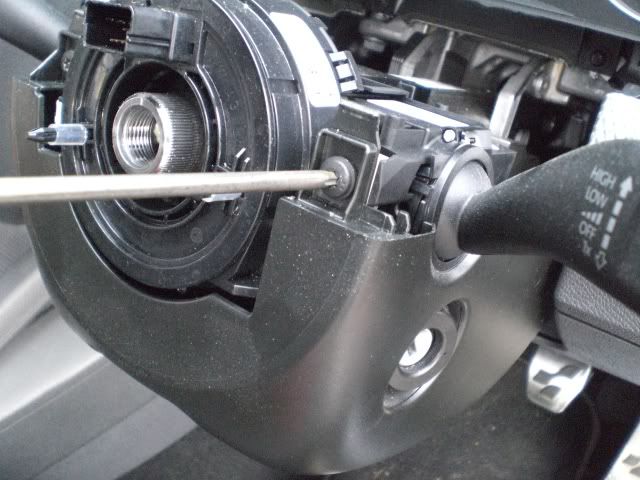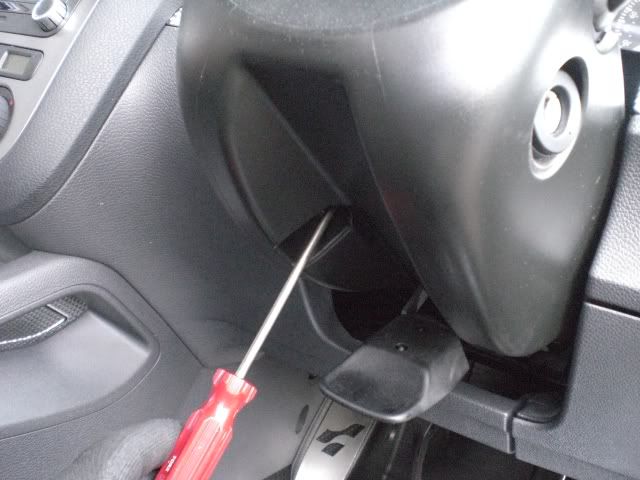 IF YOU HAVE CRUISE CONTROL YOU WILL NEED THE MK6 STALK THIS ENDS IN G AT THE END BUT HAS BEEN USED ON THE MK5 FOR SOME TIME SO HOPEFULLY YOU WILL BE OK, NO CRUISE DON'T WORRY WHAT PART NUMBER STALK IS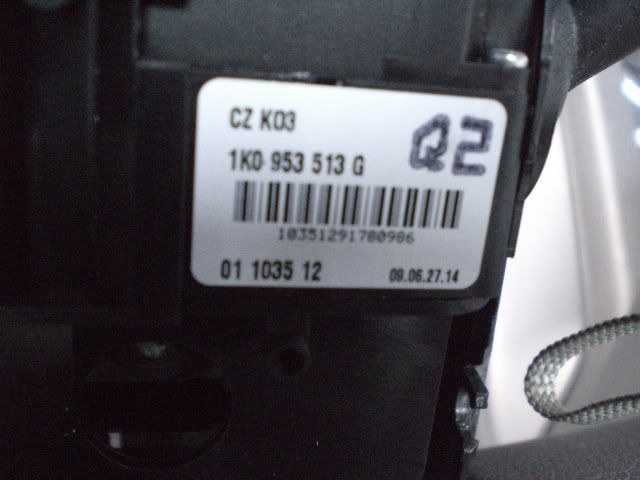 Now it's time to remove this the steering wheel control module SWCM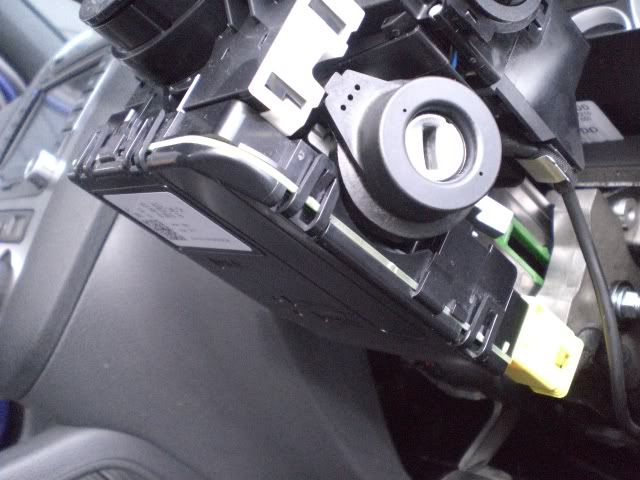 this screw is a weird screw it's not torx but you can jam a torx or flat blade in it to get it out as its not done up that tight
Now there are 2 clips that hold the SWCM in to the underside of the wheel you have to remove them like this poke a very small allen key in here to undo the first clip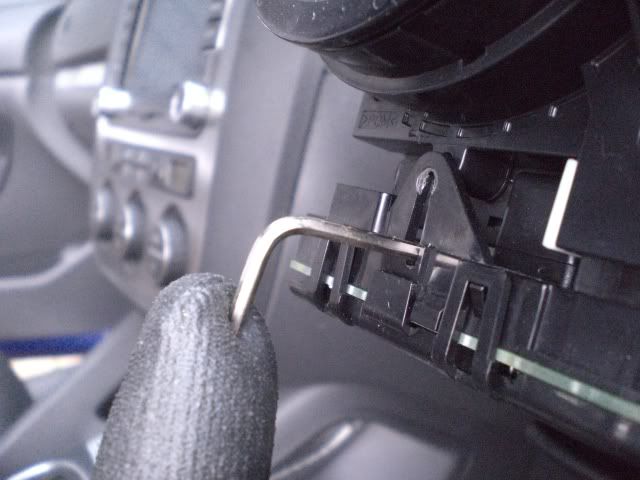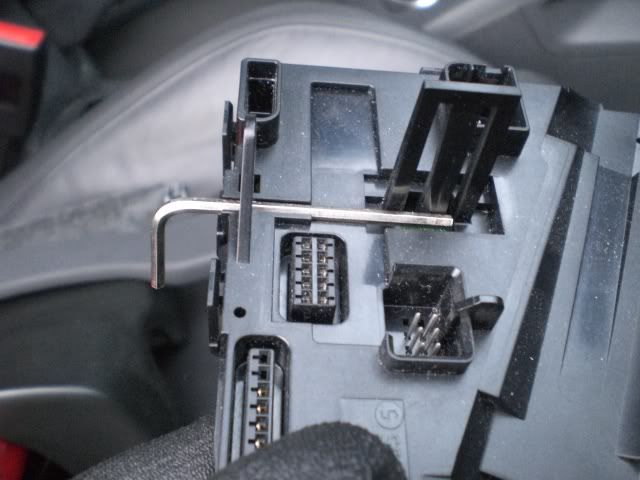 only slightly pull this down as you don't want to bend any pins now the back one with a slightly bigger allen key here. I've removed the control module already to make it easier to see where to unclip it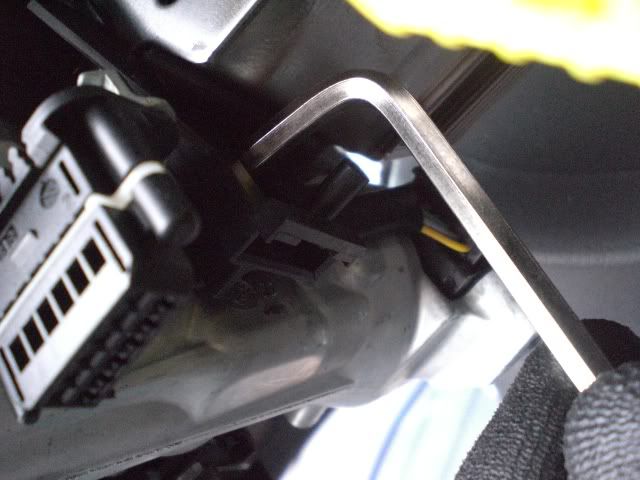 Once both clips are released pull straight down on the unit and it will come away from all the pins now release both plugs at the back, pull back this clip and pull the plug out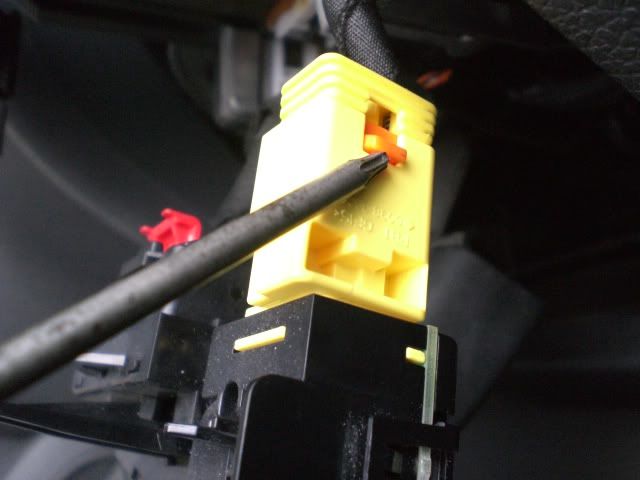 pull back this clip and pull plug out
Now you're ready to do it all in reverse .......put back the new SWCM and the plugs, the trim round the steering column with all 3 screws,put your nice new steering wheel on be it the piano black or chrome one.
IF YOUR WHEEL BOLT HAS BEEN ON ANF OFF 5 TIMES EG.. OFF ON OFF ON OFF, IT NEEDS TO BE CHANGED AS ITS ONLY SUPPOSED TO BE USED 5 TIMES
Now put the new airbag back in the new wheel put the little black connector in first then put in the yellow airbag connector....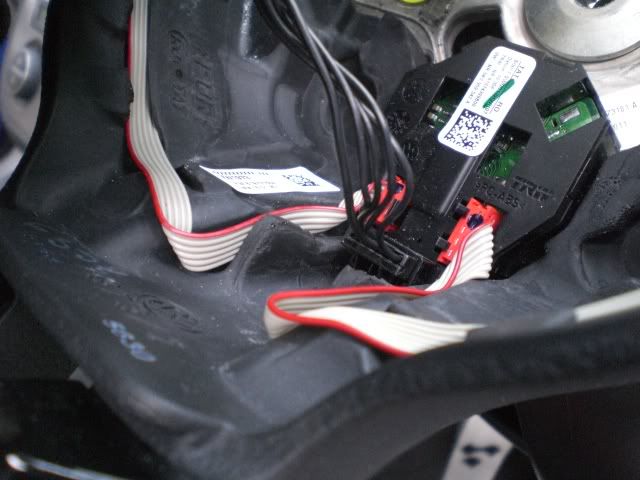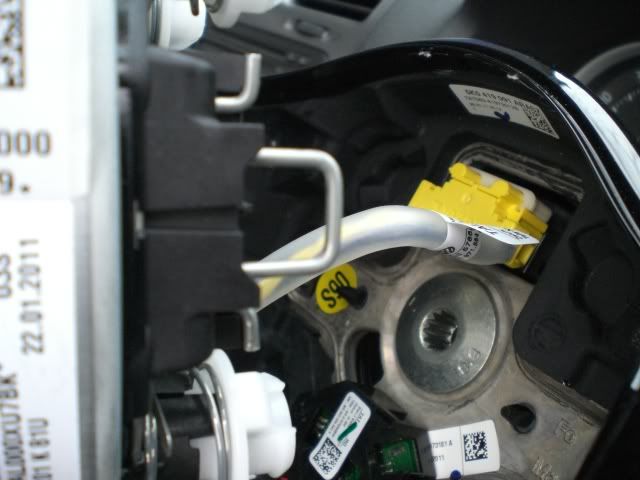 PLEASE KEEP IT POINTING AWAY FROM YOU AND YOUR FACE AWAY FROM IT WHEN PUTTING IT BACK, ALSO WHERE GLOVES THAT DO NOT CONDUCT STATIC AS IF IT DID GO OFF IT COULD BURN YOUR HANDS.
Now gently push the airbag back into its enclosure, now unlike the MK5 the MK6 is a pig to get back in you really have to give it some good pushing to overcome the side springs and also to seat the 4 white sprung holders into there recesses inside the wheel or it will stick out.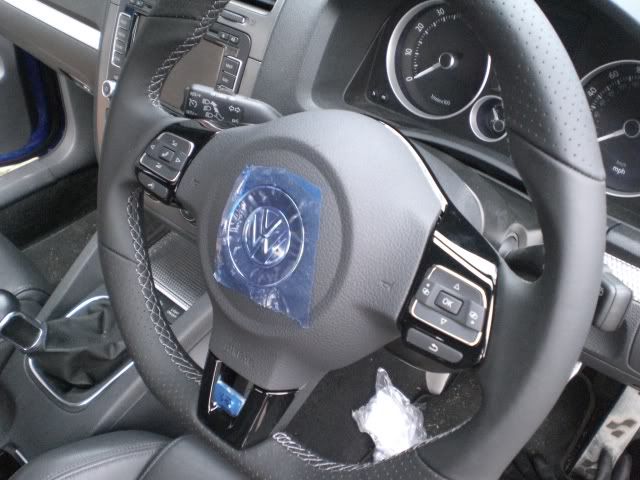 All done, now turn on the ignition with the key and then reconnect the battery negative lead your airbag should not go off.
Now go and have a cuppa or a beer as the next hour possibly will be taken up with trying to reset the ESP ABS module 03 breaks via vag com and steering assist module 44 in vag com to try and reset all these lights,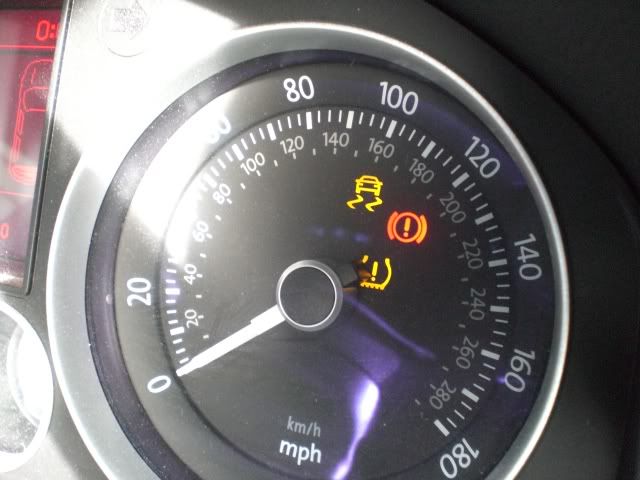 You will have a few lights up on the dash at the end of the job, 1st thing to do is go for a slow drive about say 15 mph and under, hopefully the'll all go away.
if not then you will need VAG-COM or someone with it to follow this
http://wiki.ross-tec...sist#Adaptation
Edited by SI-R32, 13 February 2016 - 02:24 AM.